Although the Tagore story is based on the Victorian imported template, the score by Ustad Ali Akbar Khan uses none of the jump scares and creaks typical of the genre
I had seen Lekin many years before I came to Kshudito Pashan, the Bengali film from which it is said to be inspired. I knew it has the template of a Victorian ghost story—a mysterious woman wandering around a desolate palatial space, imported to a more Indo-Islamic architectural setting from the Gothic residences of Victorian ghosts. I love the songs of Lekin, by Pandit Hridaynath Mangeshkar, and yet, I was surprised to see the music credit for Kshudito Pashan—Ustad Ali Akbar Khan, the late sarod virtuoso. Would a classical Hindustani musician be able to provide the jump scares and creaks that define the Victorian ghost story?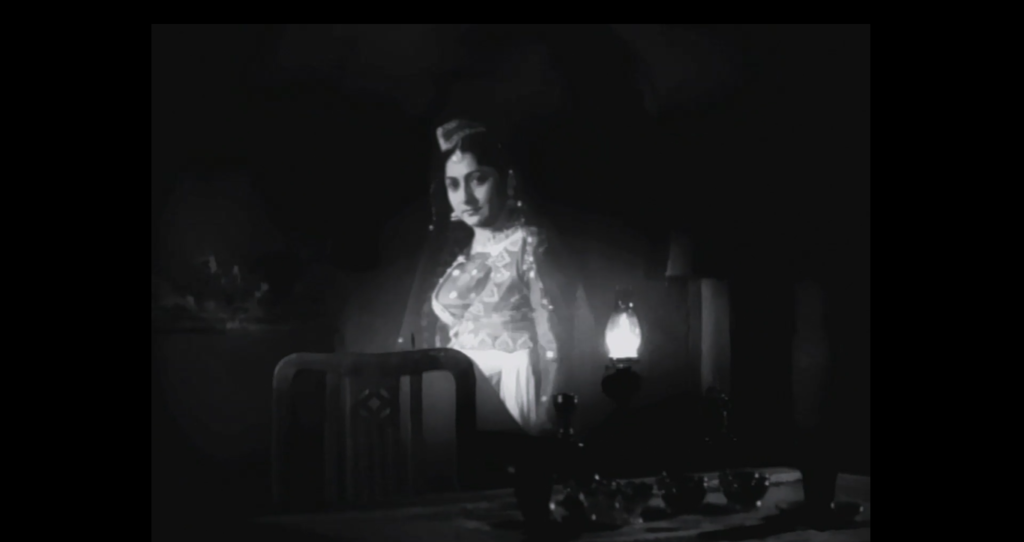 As it happens, the ustad eschews this route completely to offer a beautiful, melodic score. I don't recall how the background music in Lekin went any longer (and I did not revisit the film either). I remember the beautiful Lata Mangeshkar song Yaara Seeli Seeli, which has the status of a classic now. A hauntingly beautiful (pun unintended) song is something we see in a number of ghostly Hindi films—the B&W films Mahal, Kohra, Madhumati, Woh Kaun Thhi—and it adds to the sense of foreboding and melancholia.
This changed when Ram Gopal Varma arrived with a more Hollywood, scare-and-shock approach to ghost stories with his superb Raat in the early '90s. This may be the central difference between subcontinental ghosts pre-Liberalisation and Hollywood ghosts: we in the subcontinent were less terrified of ghosts, we were saddened by them and avoided that sadness, as if the chill of their grief would infect us too. We knew they existed, we were filled with that foreboding, but we lived alongside them, perhaps in separate corners of the house. Tragedy is usually also at the heart of the Hollywood ghost story, but there is a terrific fear of ghosts, and palpably less acceptance of their presence. As if ghosts and human beings can never co-exist. This, to my mind, is a very American notion.
Ghosts lived alongside mortal residents in Victorian England too, their heyday in the literary sense. The residents of 'manors' avoided them, but human and supernatural paths did cross. This is also true of ghosts in Bengal. Lives intersect at certain 'witching' hours, sometimes uncomfortably and sometimes, like in Kshudito Pashan, anticipatedly. Given the incredible density of population in Bengal, both in India and in Bangladesh, it is unfeasible to leave haunted houses to ghosts. It's too much real estate to give up, no?
In this film, whose title translates to the hungry stones, the hero (Soumitra Chatterjee) is smitten with the ghost, a silent, unspeaking woman (played by Arundhati Devi) dressed in a courtly north Indian style of shalwar kurta. He is a government officer posted to a city somewhere in north India, and his accommodation is a handsome Islamic palace. Everyone advises him not to stay here but he disregards the advice as rumours. Devi's ghost is quite amicable by ghostly standards and shows herself to Chatterjee, nice and easy. And yet, the film managed to give me the chills in a superb first half. When Chatterjee follows the silent woman around the 'mahal', foreboding builds up. Is she leading him to danger? To a precipice from which he will fall and break his neck? The title especially feels potent. The palace is statuesque, made of marble and solid stone, and as Devi takes Chatterjee up and down stairs, the stone looked lethal.
It is when the mystery of the silent woman is being unravelled that the film becomes flaccid. Suffice to say it is a story of re-incarnation, and it is nowhere near as thrilling as my favourite Madhumati (written by another Bengali, Ritwik Ghatak). Incidentally, the story of re-incarnation in Hindi film began with Mahal (1949), a superhit starring Madhubala and Ashok Kumar. The editor of this film is Bimal Roy, who directed Madhumati which is truly a re-birth film. I say all of this to point to my thesis that the ghost film tradition has a solid Bengali foundation, and Kshudito Pashan is a part of this.
The looseness notwithstaning, what I am struck by is how effective the suspense is for two-thirds of the 110-minute run time, and most of this is thanks to the marvellous and completely unexpected classical music score. It takes over your senses, much like the silent woman who filled up Chatterjee's imagination in the film. Like the woman, the score too doesn't articulate explicitly, but it is hard not to be smitten.
Kshudito Pashan is streaming on Hoi Choi (with English subtitles)
Director: Tapan Sinha
Starring: Soumitra Chatterjee, Arundhati Devi, Chhobi Biswas