The invisible indispensable cadre of workers who handle the dead in government hospitals received PPE kits only in the sixth week of the Covid19 lockdown in Bengal. This is probably the case in other cities. The viral videos of dead bodies in hospital wards may point to this
At the largest government hospital in Kolkata, mortuary assistants started being given PPE kits only in the last week of April, the sixth week of an ongoing eight-week national lockdown in India. Mortuary assistants, who perform post mortems and help wheel out the dead and load them into hearses, are as indispensable as doctors in the healthcare system. Without them, bodies would pile up and putrefy, infection would grow unchecked, and the ecosystem of settlements, not only the healthcare system, would collapse.
In fact, two videos have circulated so far in India, in one we reportedly see a ward in Kolkata where bodies lie next to patients, and in another, a ward in Mumbai with several bodies bagged in black bags. The videos quickly went viral on social media, an indication of the panic and revulsion dead bodies invoke. What's not clear from the videos, both of which are only several seconds long, is how long the bodies remained in the ward. This may look like an overall failure of hospital administration but it is a reflection of discrimination to a certain cadre in hospital work. This delay may well have been caused by the lack of PPE to mortuary workers. The director Anubhav Sinha offered a glimpse of what it might look like if sanitation workers struck work for a few days in his film Article 15: waste lay strewn on roads, sewer lines overflowed and drains were blocked. In the White Western masculine narrative of writers like Cormac McCarthy and films like Mad Max: Fury Road, dystopia is a vast dusty wasteland. But in densely-inhabited South Asia, dystopia would look like Sinha's vision—mountains of garbage, bodies piled up and rotting, plastic and waste leaking everywhere. Somehow, mortuary workers (who are considered sanitation workers) have not gone on a similar strike for days on end until now.
Only a certain number of bodies are taken for autopsies—when there is a pathology the doctors wish to examine and cultivate, and all unnatural deaths. But in fact mortuary assistants, known as Doms in the official designation of West Bengal, handle all the dead in government hospitals. Doms take over from the time a person dies in a government hospital. Ward boys and girls, who have been tending to a patient, will not handle them once dead. Someone from the mortuary will come and wheel the body away to the waiting hearse or car, or the mortuary if need be. Bodies that arrive at the hospital–say accident victims or bodies fished out of a lake or river, or patients who die on the way to hospital—are unloaded and placed on gurneys by mortuary assistants. Other staff will not touch them. Doms also help teach anatomy lessons to students of medicine, assisting teachers in dissection. The actual labour of cleaning bodies and bringing them to the dissection table is the work of Doms. Kolkata has six large state government hospitals and one central government hospital, aside from smaller municipal and institutional hospitals.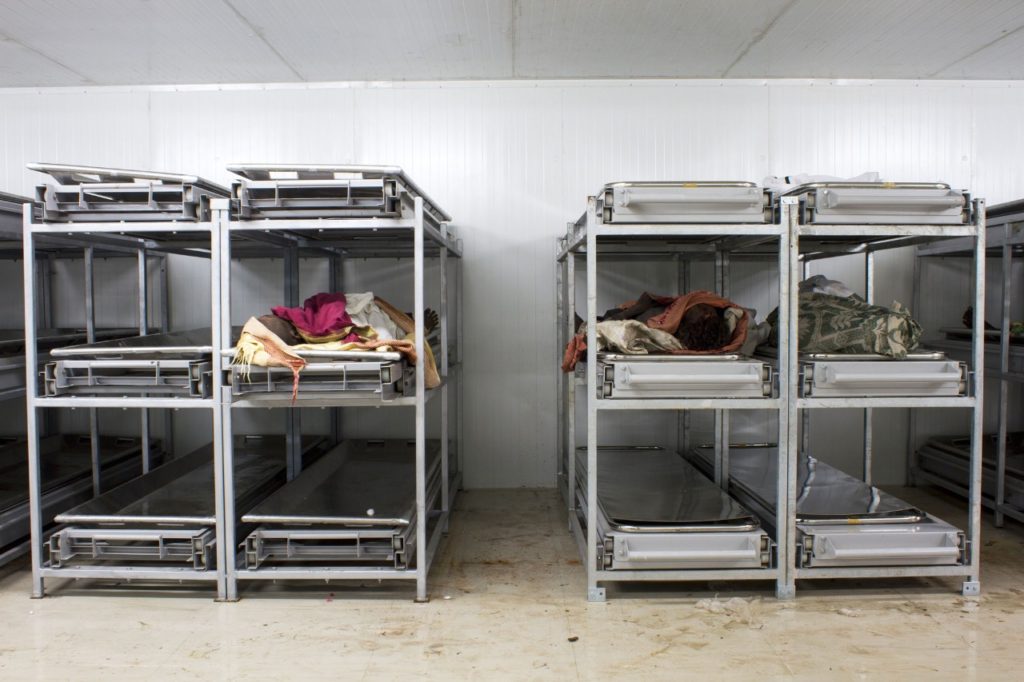 The protocol for Covid deaths is that bodies are wrapped in special bags and cremated. No autopsies are to be performed for such deaths. But the body still needs to be cleaned and wrapped. This work is done by the Doms. Certain hospitals have been earmarked for Covid care. In these hospitals, PPE kits are said to have been distributed to the Dom cadre for Covid deaths. But in other hospitals which remained open for non-Covid care, no PPEs were made available to the Doms until the week of 27 April. Covid test rates in Bengal are among the lowest in the country, and there is naturally fear about untested or asymptomatic cases. A comparison on Indiaspend found Delhi tested 1,105 persons per million of population, the highest, and Bengal, 42 samples per million of population, the lowest. This report noted figures as of 17 April 2020.
"There are large numbers of BD (brought dead) cases in any government hospital every day, people found dead in public places, homeless people, then people who die on the way to hospital," says Sunil Mangal*, a mortuary assistant in Kolkata's largest government hospital. "The police decide which ones need a post-mortem. But even without autopsies, the Doms handle everything. Until the last week of April, we were not given kits because the logic was that they are not Covid cases. But how do you know without testing? Now, we get kits for autopsies. But for handling the BD cases, workers are not given always given kits. We have requested the police Doms who come in vans to deposit the bodies in the morgue. I saw that they are wearing kits on the job."
Dr Bezwada Wilson, national convener of the Safai Karmachari Andolan who won the Ramon Magsaysay award in 2016 for his work with sanitation workers, wrote in an email: "The situation is almost the same [everywhere], and in some places, even worse." Dr Indrajit Khandekar, teacher of forensic science and an activist for better medico-legal investigation of sexual assault cases, said that at the Mahatma Gandhi Institute of Medical Sciences, where he teaches, kits have been distributed to mortuary workers as soon as they were available. MGIMS is an unusual medical institute located in rural India, founded on MK Gandhi's ideas of community-centred service in a rural setting. "But I am hearing of several such cases [of mortuary workers working without kits] in Mumbai," said Dr Khandekar. The highest number of cases in India have been reported Maharashtra, and capital Mumbai naturally has the largest number of cases within the state.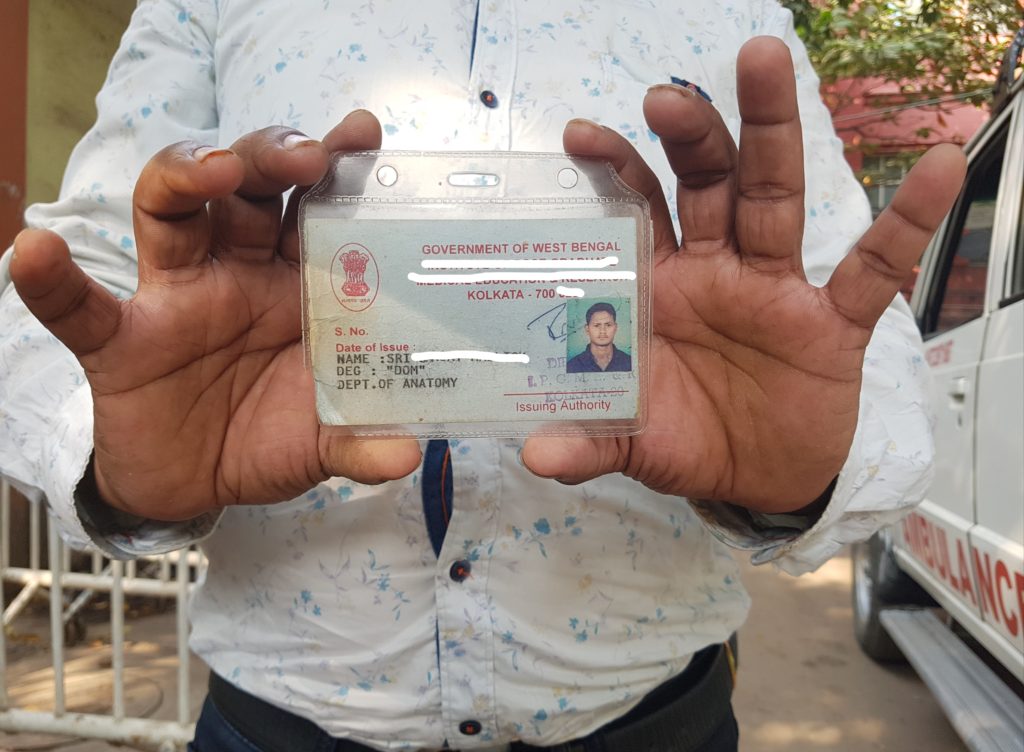 Mortuary workers in India are overwhelmingly (if not entirely) from the untouchable Dalit castes traditionally engaged in sanitation work and the work of disposing the dead, such as the Doms. They are minimally visible in the hospital hierarchy. The Chennai-based photographer Arun Vijai Mathavan has documented morgue workers in a stunning project, providing a visibility to them that medical science has not. (The images used in this post are by him.) "In Tamizh Nadu, they are all Dalits. Many of them have converted to Christianity but they told me they are Dalits," said Mathavan.
In West Bengal, mortuary workers are officially designated as Doms. I documented this in a story in 2018. I also traced an unusual phenomenon—all the mortuary assistants in Kolkata government hospitals are from one extended family, and they have been working these jobs for at least three generations if not more. It is a reservation that no complains about in the medical hierarchy.
Mortuary workers are an invisible, voiceless category of workers. Their complaints, unlike that of doctors and nurses, almost never reach social media. They are hard to find for the media as well, unless you specifically go looking. If you hear of PPE kits not being given to morgue assistants, or being given only if asked, do report it.
* name changed to protect identity