Under the strict new law, cases like Bollywood superstar Shah Rukh Khan who had a third child by surrogacy would not be permitted
If India's parliament passes a proposed new Surrogacy Regulation Bill, cases such as that of Bollywood superstar Shah RukhKhan, who had his third child va surrogacy, would no longer be possible. The strict new Bill being considered by lawmakers permits only Indian couples, married for at least five years and childless, to opt for surrogacy. It states that surrogate mothers must be "close relatives" of the recipients and carries strict criteria for surrogate mothers, genetic parents, fertility clinics, medical professionals, and the egg and sperm donors. But most importantly, it bans all commercial surrogacy and states that all women who agree to carry babies to delivery as surrogates must agree to do so for "altruistic" reasons. It also demands all couples applying for surrogate mothers prove their infertility.
Although Khan is credited with bringing acceptance and visibility to surrogacy, by speaking and being seen publicly with his son Abram, his case would have fallen short of the newly proposed laws. In 2013, when Abram was born, Khan already had two children from his marriage with wife Gauri Khan. He was not childless in his marriage, and the couple were clearly capable of having children. Furthermore, in a statement, Khan said Abram was born prematurely, implying that the birth was not as smooth as what some IVF (in vitro fertilisation) centres would suggest.
Although the proposed Bill will not be applied retrospectively, it does raise some questions about Khan's case. Why does a couple who already have children need a surrogate to bear another? Is it offensive to discuss the subject of surrogacy, or unfashionably moralistic because it involves personal choice? Or is it simply a business transaction – outsourcing the labour of birthing to another body? And lastly, should society be so accepting of surrogacy, given that many women commissioned to carry the children inevitably end up poorer than their clients?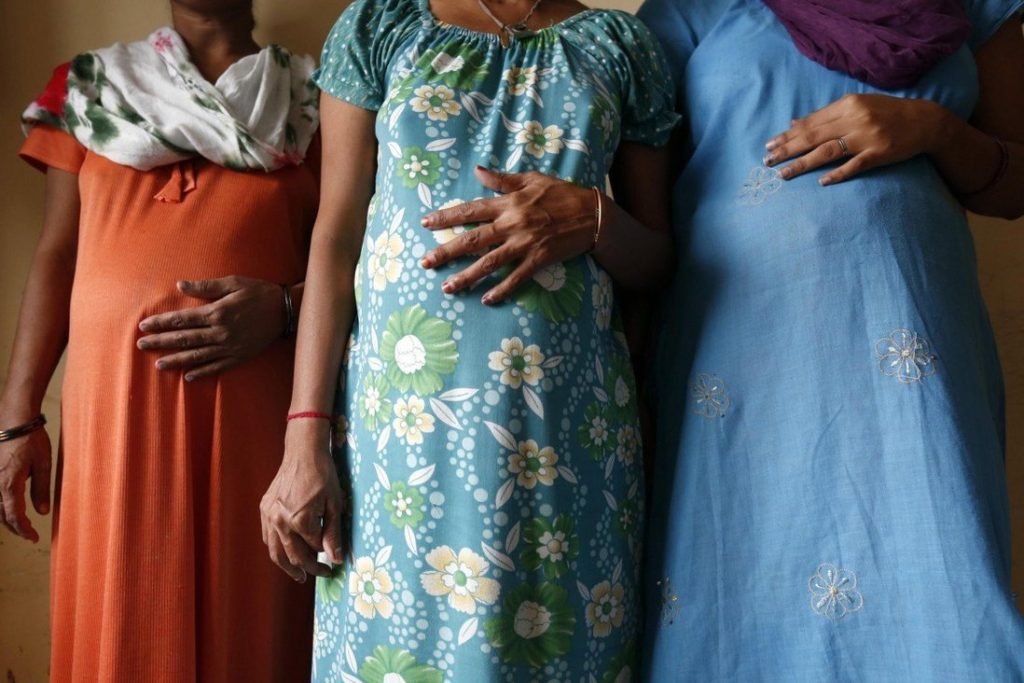 These questions are crucial to the debate about a commercial surrogacy industry, whether it is strictly regulated or not. And they even raise the prospect of a scenario described by Nobel laureate Kazuo Ishiguro in his novel Never Let Me Go, where a community of cloned humans exist only to service the medical needs of a more privileged class – providing organs and bodies for use.
"Just because the science makes it possible does not mean commercial surrogacy should be permitted," says Aarathi Prasad, biologist and the author of several non-fiction books on science. In her book, Like a Virgin, Prasad explores the science and technology of reproduction that makes single-sex conception possible.
"In the last years, India has actually illustrated the extreme of what commercialising a woman's body for reproduction looks like – something akin to The Handmaid's Tale come to life with a certain demographic taking over the responsibility of producing children for those who can afford the service. Surrogacy is inherently a practice that is open to exploitation, particularly [in a place like India] where gender inequity is so marked."
Very few countries permit commercial surrogacy, with Russia and some states in the US among the prominent ones that do. The Confederation of Indian Industry in 2012 estimated the country's surrogacy industry to be valued at US$2 billion, largely thanks to lenient government regulation.
What has existed since 2002 is set of mere guidelines drawn up by the Indian Council of Medical Research, which permit the use of women to bear children at a price. Such lax regulation has given rise to the term "rent-a-womb", which has unsettling implications despite its nearly ubiquitous use.
The spirit of the new surrogacy bill seems to be guided by the framework of The Transplantation of Human Organs Act, 1994, which permits only altruistic donation for all organ donors, living or deceased. Living donors can be compensated for surgery and medical costs but donation must be for "reasons of love". India's Cosmetics and Drugs Act, 1940, lays down a similar principle for blood donation – with no donors paid for their blood.
A 2016 Indian study found that expenditure on a major illness for a woman in India was 28 per cent lower than that of a man. In a United Nations Development Programme report (2017) on gender inequality, India ranked 125 among 159 countries. An analysis of data from numerous Indian medical and research institutions last year revealed that women made up 74 per cent of all living kidney donors and 61 per cent of all living liver donors. Women, however, only accounted for 19 per cent of kidney and 24 per cent of liver recipients. Every one of these was a legitimate organ donation, where the woman gave consent. "In Indian families, women are often not asked but told to donate," one liver surgeon said last year.
If this were the situation in altruistic donation, then imagine the pressure on women in commercial surrogacy, a procedure that only women are biologically equipped for. It is a given that women in a society as patriarchal as South Asia's may face family pressure to carry a child for another. But the provision that surrogate motherhood will bring no commercial benefits, only compensation for medical expenses, should be a good deterrent against repeat surrogates.
"Very few people actually require surrogacy – women who do not have wombs or have cancer," said Dr Puneet Bedi, gynaecologist in Delhi and an activist against female foeticide. "Infertility does not mean you need surrogacy. This has become an 'industry' because it has been unregulated so far. Patients sometimes ask me if they need a surrogate. This is like going to a luxury store and asking for a service.
There are practitioners who have made billions in this so-called industry and advertised themselves by inviting reporters to their facilities – they say they offer stay-homes for surrogate mothers, which are essentially jails. These surrogacy specialist doctors also appear on television channels where they insist surrogacy is a right. But it is not a right, no one has the right to use another person's body to have a baby simply because the science is available."
Parts of the Indian media, however, appear critical of the surrogacy bill because the ban on commercial surrogacy may create a black market similar to the one in organ trade and prostitution. "It would be wise to acknowledge that wherever a gaping hole in demand and legal supply for any product emerges, black markets have been known to surface and thrive," one op-ed in The Hindu said.
Yet in the Netherlands, where prostitution was legalised in 2000, Amsterdam mayor Job Cohen said in 2007 that crime was still rampant in the industry and the city's administration wanted to reverse the legalisation. In Iran, the only country where organ sale is permitted, the numbers of kidney transplant procedures have not gone up substantively since the sale of organs was allowed. What has happened instead is that organ donations have shifted to a demographic who need to sell their organs for money.
There are, however, certain shortcomings in the proposed surrogacy bill. The most prominent groups banned by this draft will be foreign nationals, unmarried Indians – single or attached – and non-heterosexual persons since India does not recognise marriage outside heterosexual couplings. The lack of access to surrogates for single persons, unmarried couples and non-heterosexual persons amounts to a denial of equality.
Writer and journalist Gita Aravamudan, author of a book on surrogacy in India called The Baby Makers, points to the fact that the Artificial Reproduction Technology (Regulation) Bill has not yet been passed which leaves important technicalities unattended. "The surrogacy draft does not touch on the screening of egg and sperm donors for diseases like the ART bill does," Aravamudan says. "The ART bill says embryos cannot be split for the purpose of twinning whereas this one does not mention this. These need to be ironed out properly. Otherwise, this surrogacy bill is meaningless."
This op-ed was originally published in the South China Morning Post.