The Muslim man has been recast as a beast in mainstream blockbusters. But the Muslim woman we see in projects like Special Ops, War or Bajrangi Bhaijaan is either infantilised or simply erased
In Special Ops, the web series by Bollywood director-producer Neeraj Pandey, there are two Muslim women characters with speaking roles among a dashboard of bloodthirsty Muslim men who are invariably accompanied by ominous music. The women, played by Divya Dutta and Revathi Pillai, are suicide bombers (revealed in the trailer itself, no spoilers here). The younger woman, they are two sisters, is schizophrenic triggered by violence she has experienced earlier in her life. Although she is a young adult, she watches cartoons on television and loves ice-cream and junk treats. Her sister indulges her. Both these roles are pretty small in the context of an eight episode series of an hour each.
Yet, it is an unusual sighting, Muslim women with speaking roles in the Muslim-baiting Hindi cinema of this moment. Right from A Wednesday, Pandey's (enjoyable) cinema has a tradition of slyly baiting Muslims, while appearing to be no-nonsense taut narratives. (Technically, Special Ops may be a web series, but effectively, it is a longer version of the Pandey brand of cinema. Only, this one does not star his regulars Akshay Kumar and Anupam Kher.) This seeming fairness is usually achieved by the presence of a couple of 'good Muslims' serving in the forces in the plotline, a routine several decades-old device in Bollywood film to deflect criticism of demonising Muslims.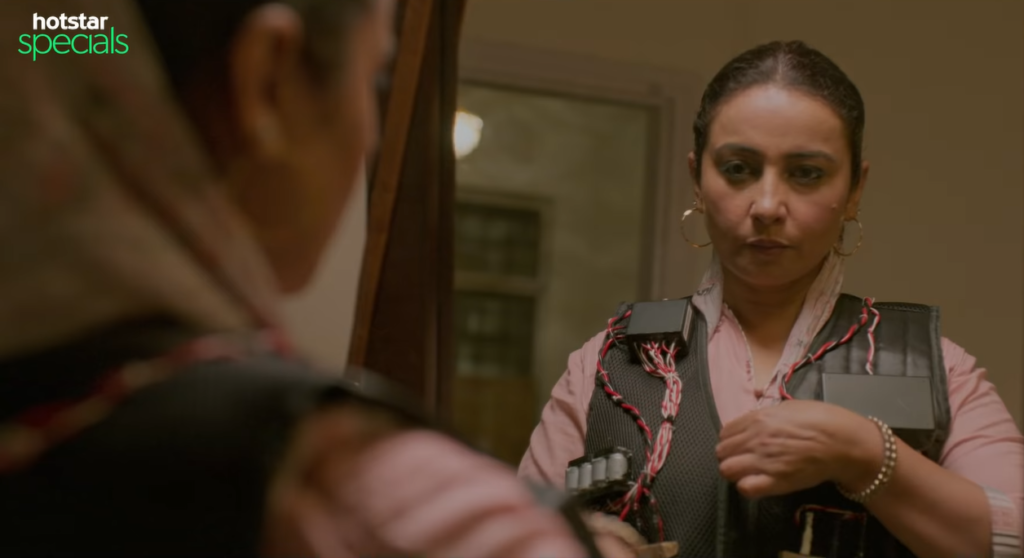 The Hindi filmmaker Anubhav Sinha has nicely explored what this good Muslim or sarkari 'musalman' is in his film Mulk: Muslims who with some measure of privilege and some of their own initiative, manage to rise up the ranks of the Indian establishment and develop a loathing for Muslims who don't. Yet even in Mulk, which is about a Muslim family battling Islamophobia, the Muslim women are domestic, the woman who does the progressive talking is the family's Hindu daughter-in-law.
The Pandey genre of thriller, where the Indian secret services foil the global Muslim terror plot, has become a certified box-office success in the Hindi film industry. The other Hindi film genre that has become fail-proof, is the lavish historical like Padmavat, Kesari or Panipat where the moral courage of Indian warriors (this can include Sikhs) defeats marauding Muslim armies. In the Pandey thrillers, the Muslim woman is either oppressed or deluded like in Special Ops. She needs to be saved, and sometimes it is the Indian state that steps in to save her by recruiting her in their services. Special Ops has one character like this, we barely know anything about her character except that she can beat up bad men and bring them to line. The other women are the deluded suicide bombers. In the historicals, the Muslim woman is mostly unseen, creating an impression of Islam as rampaging armies of men starved without women.
The irony of it struck hard especially in the post-Shaheen Bagh moment. The largest, most-sustained protest in independent India is a movement led by Muslim women, many of them described as homemakers. Bollywood shapes, for what it is worth, the imagination of a vast number of people who watch its cinema. The Muslim man has been consistently bestialised in a series of blockbuster hits, by now we all know this. And the Muslim woman, I realised, is a non-entity. In this sense, the persona of Nazma Aapi created by the comedian Saloni Gaur, does in fact fill a void. She presents us with a regular Muslim woman in popular culture, which our wealthiest cultural industry, Bollywood, does not.
I should make a distinction here: The Muslim woman has appeared in a large number of Hindi films, chiefly the genre known as the 'Muslim social' where stories are set in a wholly Islamic setting. This was very popular until the 1960s, but we see the Muslim film occasionally in subsequent decades too—films like Umrao Jaan, Pakeezah, Fiza, recently Gully Boy in the mainstream register, and Mammo, Sardari Begum, Naseem in the alternative register. Incidentally, in the iconic Hindi film Amar Akbar Anthony (1975) about three brothers lost in childhood and adopted in three different faiths, it is the Muslim woman who is a doctor. The Hindu woman is a congirl and the Christian woman is a rich girl who does nothing. In Modi's India, this film seems impossible even though Bollywood is remaking much slighter films to cash in on the nostalgia.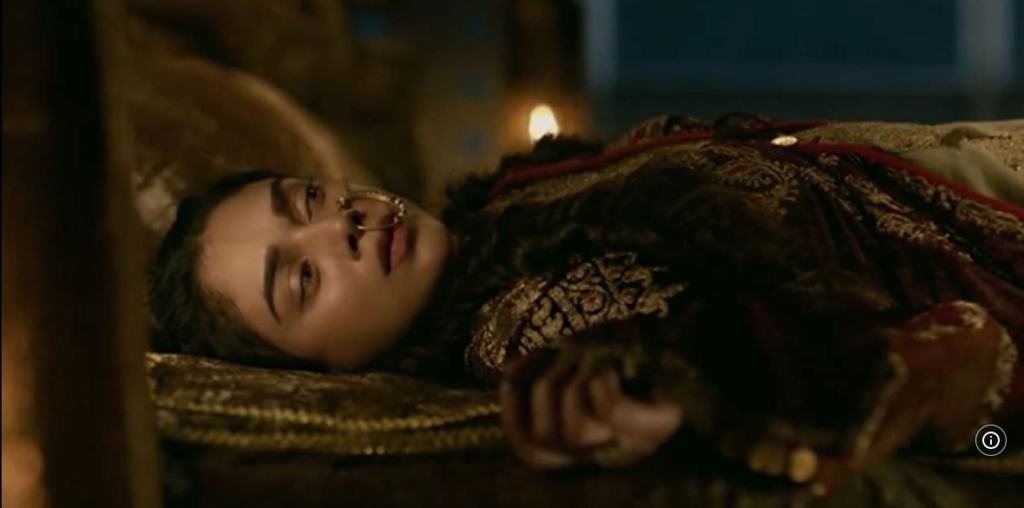 Consider the last Hindi film hit before the theatres closed for the lockdown in India. In Baaghi 3, hero Tiger Shroff promised to erase the Muslim country of Syria from the map of the world. The war-ravaged country is shown to be run by a militia in black robes with kohl-rimmed eyes, possessing an abundance of helicopters and armed combat vehicles. Their revenue model is kidnapping families from south Asia, and blackmailing the men into becoming suicide bombers for them. The militia is supposed to represent the Islamic State. In truth, the IS lost control of all the territory it had gained in Syria by March 2019. There are no women to be seen in this Muslim nation, except a constellation of barely-clothed women at a night club. The only woman who speaks on screen is the (Hindu) hero's girlfriend, played by Shraddha Kapoor, who marks her presence in the woman-free landscape by keeping her blowdried mane open throughout, even the time that three armoured vehicles chase her.
In 2020, biggest box office success in Hindi , Tanhaji, Saif Ali Khan plays the almost-Muslim—that is to say, his name is Uday Bhan but he is loyal to the Mughals and has adopted Islamic ways. He grills a crocodile for dinner, preys on women and generally behaves very badly and has a lot of fun. There is, however, no woman character who is close to him. Neither is there any woman in the Mughal dynasty, shown in the form of a dour, pale Aurangzeb.
In War, the biggest Hindi language box office hit in 2019, the Tiger Shroff character's father was the Bad Muslim who sold out the country's secrets. The Good Muslim was his son, who was determined to make amends. His mother, a Muslim woman played by Soni Razdan, had two scenes in the film, one where she brought food for her son and another, where she mutely accepts an award. War is perhaps the most egregious of these films, in that it shows the good Muslim to be an eyewash, an illusion maintained by a sleight of hand.
In 2019, there was also the Panipat. Here, the Bad Muslim is the Afghan ruler Ahmad Shah Abdali played by Sanjay Dutt. Abdali wears black, devours meat, has scars running through his face and is a ruthless enemy at war. His life is a singularly male sphere, untouched by women. There is no presence or even memory of a mother or mother figure who left an impression on him.
Another huge success of 2019 is Kesari, another Hindi box-office smash. It tells the story of 21 Sikh soldiers fighting for the British colonial army to protect Sargarhi, the Afghans are a murderous crowd of thousands rushing in to destroy the British regiment. Our Sikh hero Akshay Kumar is given a backstory with a wife, but the marauding Afghans are men without history, there is nothing remotely human in their depiction, and perhaps this is why they are shown as men without women, families or children. They are only a huge mob of marauders.
Think also of the first blockbuster with a Hindu-Muslim dynamic after Prime Minister Modi's BJP government was voted in 2014. Bajrangi Bhaijaan had none of the virulence of later films such as Padmavat or Tanhaji or Pandey's brand of seemingly-fair no-nonsense cinema. The film is the story of a mute, six-year-old Pakistani girl found lost in India by hero Salman Khan. She was a Muslim, and she speaks four words in the last five minutes of the 2 hour 43 minute film when she finds her voice and calls Khan "maama" and follows up with the three words that are magic to the BJP—Jai Shree Ram. I wonder if this silent, beautiful child now personifies the Muslim woman in the popular imagination—a voiceless, helpless victim of circumstances who needs saving. Either by a Hindu man or the Indian, read Hindu, state. In a couple of projects by Pandey, Indian Muslim women have been cast as spies in the Indian establishment.
There are exceptions to this. Sayani Gupta played the conscience of the fake encounter film Jolly LLB 2 (2017), a pregnant young widow who believes the Indian judiciary will give her late husband the justice he was denied in life. There are the frankly incredible personas of Aishwarya Rai as Sabah the poet, and Anushka Sharma as Alizeh, the love interest in Ae Dil Hai Mushkil. These women are deeply satisfying as ideas, both are headstrong women, unashamed of articulating desire. But on screen, they seem improbable, so wealthy that their identity seems untouched by anything except wealth. Still, I do enjoy Rai's poet—it is so unusual to have a creative woman on the Hindi film screen in the first place—and Sabah is Muslim, an identity the public discourse associates with burqa, talaq and naivete. (All the artists and writers are men, think and see.) One of the more obvious candidates is Konkona Sen Sharma's resourceful saleswoman in Lipstick Under My Burkha, who knows her abusive, good-for-nothing husband is cheating on her and avenges herself through a remarkable sales pitch. She is quiet, ambitious and knows that only she can right the wrongs done to her in her bad marriage.
That brings me to Padmavat, the most complex of these films, which arguably began the making of Muslim men into beasts and found superb box office success for it. Here, Alauddin Khilji's wife, the empress Mehr-un-niisa, has a considerable role right from the start. She is played by the actress and dancer Aditi Rao Hydari, and has a crucial role to play in the story. We see her first as a young woman in thrall of Khilji who asks for her hand in marriage. Then, as she comes to know her husband, she turns quieter but seemingly not bitter. Although Khilji has lusted for Padmavati in her presence, she helps Padmavati and her husband Ratan Singh escape through dungeons out of their camp. Khilji sentences her to death for this act. Her life was lived in the emperor's shadow, yet Mehr-un-niisa became her own quiet person. It is an irony that mirrors the film's—Padmavat began the portrayal of the beastial Muslim, yet Bhansali fashioned a memorable and brave woman within it, the only woman of note in the new Islamicate of Bollywood.
Why should it matter, this business of women, whether they exist or not? Because it speaks of how the public imagination is constructed, I think. Popular Hindi cinema functions as the projection of New Delhi's imagination. The films of Bombay have ventriloquised Delhi's messages—why else would a city in a Marathi speaking land make films in a language spoken by the northern part of the Indian Union? The Monstrous Muslim is the fevered imagination of Hindutva politics, and in this imagination, the Muslim woman does not exist.
Hence, public policy is shaped to bring the Muslim man to heel and 'save' Muslim women: the Muslim Women Act 2019 lays out criminal imprisonment upto three years for men who divorce their wives by saying talaq (divorce) thrice, but mentions no provisions for women who may be abandoned without triple talaq. Triple talaq could have been done away with by declaring this method of divorce null and void. On the other hand, in the matter of a petition requesting an end to the practice of female genital mutilation practised by Dawoodi Bohras, the Modi government has stalled, saying this is a matter of religious belief. In other words, real reform in the lives of Muslim women is unimportant, what matters is criminalising the Muslim man.
If the thousands of Shaheen Baghs that bloomed across India are any indication, Muslim women don't need any saving. Like the 'poor, enslaved' empress Mehr-unissa who saved the unbowed queen'' Padmavati , they have probably saved us and healed us in many ways, small and big, in these haemorrhaging months. For all the blame that is legitimately laid at Sanjay Leela Bhansali's feet, he may have shown us something that we didn't realise until much later.
Originally published on Polis Project